The Gathering, a competitive Magic: The Gathering Arena format that lets players build decks from scratch with cards they've won throughout the course of their matches., has announced its new Alchemy Competition Format. This will allow players to draft and play in an event without having any collection whatsoever.
The "mtg arena android" is a new competitive format for The Gathering Arena. The format will be used at the upcoming Pro Tour 25th Anniversary in Portland, Oregon on October 7-10.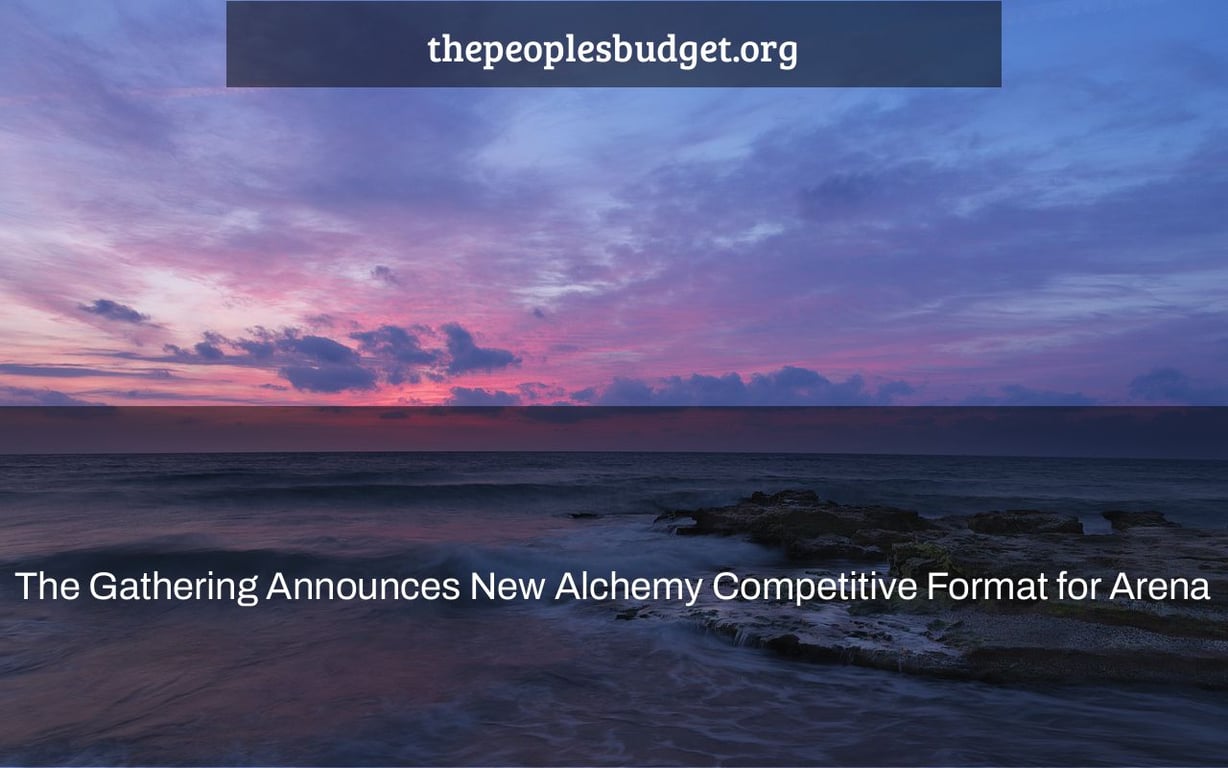 A new Alchemy format for Magic: The Gathering Arena will take full use of the game's digital nature. The set rotation for Alchemy will be the same as for Standard. Alchemy, on the other hand, will adjust cards on a regular basis. The format also makes use of the digital-only extra cards introduced in Historic through Jumpstart: Historic Horizons, which leverage the digital-only game mechanics introduced in Historic. Alchemy will be released next week with the Magic: The Gathering Arena update on December 9th, which will include Alchemy: Innistrad. The first Alchemy set adds 63 new cards to the most recent expansion for Magic: The Gathering, Innistrad: Crimson Vow.
Wizards of the Coast intends to issue a new supplementary Alchemy set four to six weeks after a new premier set is released. A digital mechanism will appear on every card in the Alchemy set. The purpose of these supplements is to balance out dominant archetypes while boosting those that are just on the verge of becoming competitively viable. Wizards of the Coast expects that Alchemy will solve a problem that has arisen as a result of the success of MTG Arena. New standard formats are "solved" faster than ever before (archetype power levels are firmly determined, and an apparent "best deck" develops). While players wait for the next set, the format might get stale after it has been solved. For those who are weary with Standard, Alchemy provides a more dynamic metagame.
Alchemy will not be replacing Standard in Arena, according to Wizards of the Coast. Instead, MTG Arena will split its formats into two groups going forward. Those that have paper equivalents, such as Standard, will keep up with their tabletop counterparts. This rule applies to Standard and any future traditional formats, such as Pioneer, that are introduced to MTG Arena.
A Live format is one that allows for the use of digital-only game components and rebalanced cards. In addition to the new Alchemy format, MTG Arena's first digital-exclusive format, Historic, was already the first Live format with the release of Jumpstart: Historic Horizons. Historic will utilize the rebalanced versions of cards where relevant as of the release of Alchemy: Innistrad. Wizards of the Coast is also "actively considering" transferring Alchemy's direct rebalancing technique to Historic, but first wants to see how things work out with the new format. Historic's prohibited and suspended list remains in effect for the time being, although this might change in the future.
In Alchemy, cards will be rebalanced rather than outlawed. In print play, such rebalancing would be a logistical headache, requiring substantial errata knowledge. In MTG Arena's digital environment, it's a whole lot easier. Any card that is banned in Standard will be rebalanced and allowed in Alchemy in the future. (However, players will still get wildcards as compensation for already-banned cards in their collections.)
Rebalancing, on the other hand, will be much more often in Alchemy than the periodic bannings of tabletop Magic. Wizards of the Coast currently predicts that Alchemy will be rebalanced on a monthly basis. Some of the most powerful and frequently played cards in the current standard format are getting rebalanced in Alchemy: Innistrad, including Esika's Chariot, Goldspan Dragon, Alrund's Epiphany, Faceless Haven, Luminarch Aspirant, and the previously banned Omnath, Locus of Creation (which becomes legal again in Historic as well) (the Standard versions of each card will remain unaltered, and owning one version of the card means you own the other as well).
However, rebalancing will not necessarily entail reducing the power of prominent cards. Other cards that haven't seen much action may get a boost in power. Pylath, World Sculptor is one of the cards receiving an upgrade in Alchemy: Innistrad.
Alchemy isn't going to be a casual or off-meta game. Alchemy is being considered as a format for future high-profile Magic: The Gathering events hosted on MTG Arena, while no formal plans have been made yet.
What are your thoughts on the new Alchemy format in MTG Arena? In the comments box, let us know how you feel about it. On December 9th, Alchemy will be released on the Magic: The Gathering Arena.
Watch This Video-